HR management is a complex task. It involves juggling multiple balls like recruitment, retention, performance management, training, etc. Amid all this, one key component is often underestimated: the organization's structure — the org chart. By using OrgChart, a tool for visualizing this structure, you can ensure the right individuals find their home in the right positions. This significantly enhances efficiency and productivity, helping you unlock the full potential of your organization.

Multiple stakeholders, including HR and executive management, play significant roles in the hiring process. Yet, the diversity of perspectives can lead to a communication gap. With OrgChart, you can bridge this gap, simplifying the hiring strategy for all stakeholders. This tool integrates HR data across platforms to create a clear, visual representation of your organization structure, ensuring everyone involved has the information they need to make the best decisions for the company.
OrgChart Features for HR Management
Navigating the sea of HR management tools can be a daunting task. To make the decision easier for you, we delve into some of the core features of OrgChart. These features aim to simplify and enrich your hiring strategy, providing a well-structured visualization of your organization. The tool effectively brings HR data to life, making making informed decisions that drive your organization forward much more manageable.
Visualize Open Positions with Your Org Chart
Being able to visualize open positions in your organization is invaluable. OrgChart integrates directly with popular Applicant Tracking Systems, so that you can visualize current open roles and instantly spot gaps where more focused recruitment might be needed. This is particularly beneficial in a fast-paced business world where the longer a position remains open, the more productivity is lost.
Identifying Skills and Qualifications with Org Charts
Understanding the skills and qualifications within your organization is crucial. OrgChart simplifies this process by connecting with many popular HR information systems. It enables managers to understand their departments' skills and which areas need to be targeted in their hiring strategy. With this knowledge, you can ensure your team has the skills to achieve your organization's goals.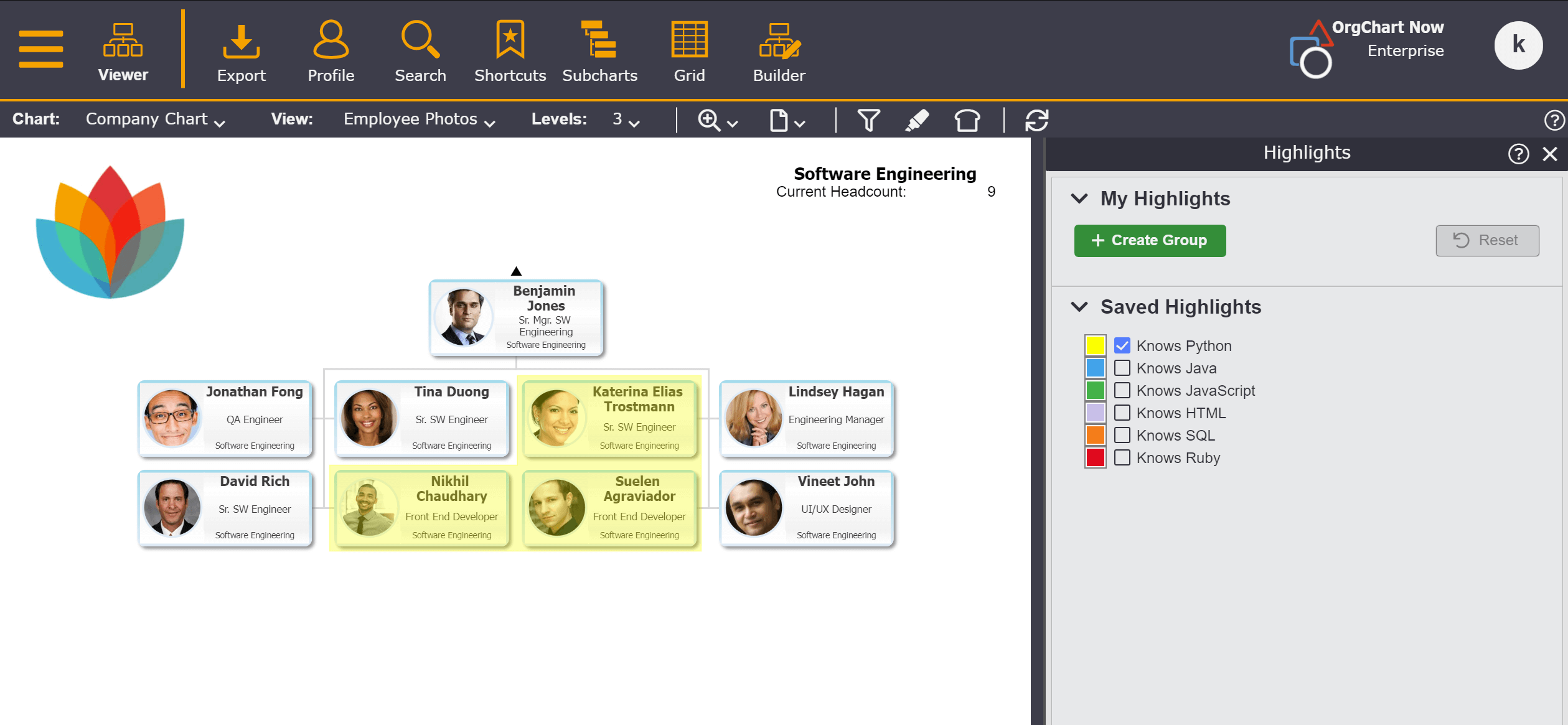 OrgChart Features for HR Management: Presentation Options
Presenting data in a way that makes sense to different stakeholders is crucial for any HR professional. That's where OrgChart comes in. This tool offers various presentation and filtering options, providing flexibility and ensuring all stakeholders can easily understand the data. Whether it's embedding dynamic charts directly into the company's intranet or exporting to formats like PowerPoint or PDF, OrgChart has you covered.

Using OrgChart for strategic hiring decision-making, you can create a real-time snapshot of your organization's hiring needs. This snapshot, combined with the visual representation of the organization, and highlighting the most critical data points, paves the way for a comprehensive, effective hiring strategy.
Unlock Your Organization's Potential with OrgChart
Ready to elevate your HR management? With OrgChart, you can visualize your organization, gain invaluable talent insights, and facilitate workforce planning like never before. Please request a quote today and see how OrgChart can revolutionize your HR processes, drive efficiency, and empower your organization to reach its full potential.