The Great Resignation is a term assigned to the pandemic phenomenon of employees leaving their jobs. According to the Labor Department, a record 4 million people quit their jobs this April alone. The pandemic changed employees' lives, jobs, and work environments in many ways. This caused workers to reassess their jobs regarding compensation, flexibility, and satisfaction. In the past, people quitting their jobs signaled a strong economy. But other reasons are in play this time, such as a reluctance to return to a potentially unsafe workplace or dissatisfaction with working in the under-compensated, under-staffed, COVID-era service industry.

HR departments are at the front lines of resignations happening across the country. Companies must reimagine how they are structured, recruit and retain talent, and do business. HR is the driving force in helping companies do all this. For many HR professionals during the pandemic, the day-to-day flow of work became a roller coaster. Some companies grew exponentially, while others had to lay off and then rehire the same workers in a matter of months.

"HR departments know for certain that even a 'return to the office' will never mean a 'return to normal,' and that has put an unprecedented expectation on HR professionals," says Michelle Alvis, Principal Owner of Alvis People Solutions, LLC.

Alvis herself chose to resign and launch her consulting practice during the pandemic spurred by the changes in her in-house HR role. Some of the challenges she's identified HR professionals face today are keeping up administratively with employees moving to other states and being caught in the crosshairs mediating between struggling employees and senior leaders' philosophical differences on how best to handle a pandemic.
Navigating the Great Resignation with HR Software
As we continue navigating the Great Resignation with HR software like OrgChart, it's clear that these tools play a vital role in managing the unprecedented wave of employee turnover. An automated solution like OrgChart makes it easier to maintain an updated an accurate view of your organization.

Org chart software can be a helpful tool to "steady the ship" as companies navigate the Great Resignation. Having an automated solution means that keeping up with administrative changes is easy because the data represented in the chart, such as location and employee status, is synched with the internal HRIS. Use the tool strategically to plan vacant positions and restructure a rapidly changing workforce.
Managing Open Positions with Org Chart Software
OrgChart, a powerful org chart software for managing employee turnover, can be your greatest ally in weathering the storm of the Great Resignation. With features that allow for quickly visualizing vacant positions and identifying gaps to fill, managing open roles becomes a breeze.

Identifying and filling open positions quickly and effectively is a priority when employees leave at an increased rate. Gaps in the organization need to be identified in real-time, and a strategy for filling them put in place immediately. OrgChart integrates directly with popular Applicant Tracking Systems, so that you can visualize how the roles you are recruiting for will fit into the rest of your organization. Easily highlight and filter for open roles to understand where hiring efforts are most needed.
How to Use OrgChart Software to Manage Open Positions:
Switch the status of an employee by selecting from the pull‑down menu.
Adjust conditional formatting so open positions are instantly identified by color.
Toggle between statuses – Employee, Candidate, Decline, Vacant.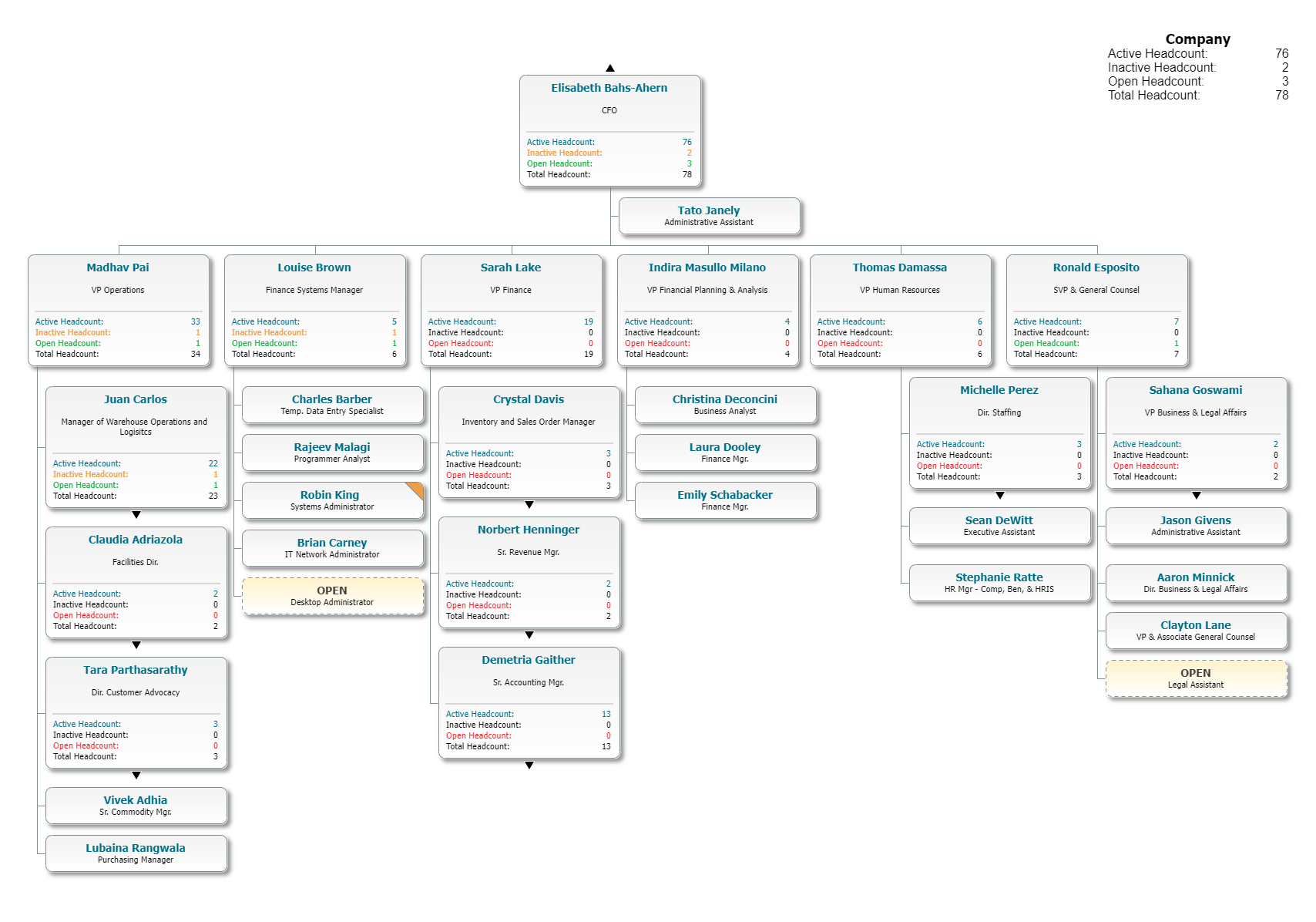 Workforce Restructuring in the Great Resignation
Workforce restructuring in the Great Resignation era can be a daunting task. However, OrgChart offers solutions to help businesses adjust and realign teams following a wave of resignations. The tool allows HR professionals to analyze the effect of vacancies on the budget and headcount of departments and strategize accordingly.

Charts can also be used to view the effect of open positions on the budget and headcount for groups or departments. Display what metrics of potential candidates are important; employee rating, salary requirements, and years of experience. Employees and potential candidates can then be transported to different groups within the organization and into different positions in the reporting structure. Gaps in the organization can be covered by filling vacant positions and reassigning and promoting existing&nbps;employees.
Maximizing efficiency in HR departments during the Great Resignation
"With the added pressure of the Great Resignation, maximizing efficiency in HR departments has never been more crucial. OrgChart, with its user-friendly and intuitive interface, is the perfect partner to facilitate efficient workforce planning and management.
Conquer the Great Resignation: Request a Quote for OrgChart and Empower Your HR Department Today
The pandemic and the Great Resignation that followed have introduced numerous challenges to HR professionals. Fortunately, tools for HR professionals during the Great Resignation, such as OrgChart, offer an effective solution for managing these complexities. With its sophisticated features, OrgChart provides HR departments with the capability to efficiently and strategically manage the changes in the workforce structure.

Amid the Great Resignation, OrgChart is a reliable partner for HR professionals. By visualizing your organization's structure, identifying gaps, and helping you strategize for the future, OrgChart enables you to manage workforce changes effectively and efficiently. Ready to unlock your org chart's potential? Request a quote today and equip your HR department with the power to navigate the ever-evolving workplace landscape.