In today's fast-paced corporate landscape, adapting swiftly is necessary. Your organizational structure, key workforce metrics, and visibility into these elements are vital. By leveraging OrgChart, you can easily navigate various workforce initiatives, such as creating new project teams, orchestrating mergers and acquisitions, managing reductions in force, and supervising break-ups and spin-offs. With the rich insights in OrgChart, you can now strategically plan and implement data-driven solutions to efficiently address the organizational changes that come your way. Are you getting the most out of the tool? Here's how you can.
Build High-Performing Teams with OrgChart
Success in any organization is directly tied to its ability to build effective teams. Research shows that 97% of surveyed employees and executives believe a lack of alignment within a team impacts the outcome of a project. OrgChart offers a clear, visual representation of your organizational structure, enabling employees to better understand their roles and responsibilities. With this tool, you can avoid the pitfalls of a poorly communicated organizational structure, such as confusion and lack of accountability, fostering a more focused, aligned, and responsible team.
Boost Succession Planning and Career Development with OrgChart
OrgChart serves as a dynamic tool for succession planning and career development. Per Mercer, 78 percent of the workforce would remain longer with their current employer if they saw a clear career path within the organization. With OrgChart, HR professionals can leverage job skills and competencies data to quickly identify high-performing employees or those in mismatched teams. By offering employees a transparent organizational structure, OrgChart increases employee engagement and boosts their motivation to perform at their best.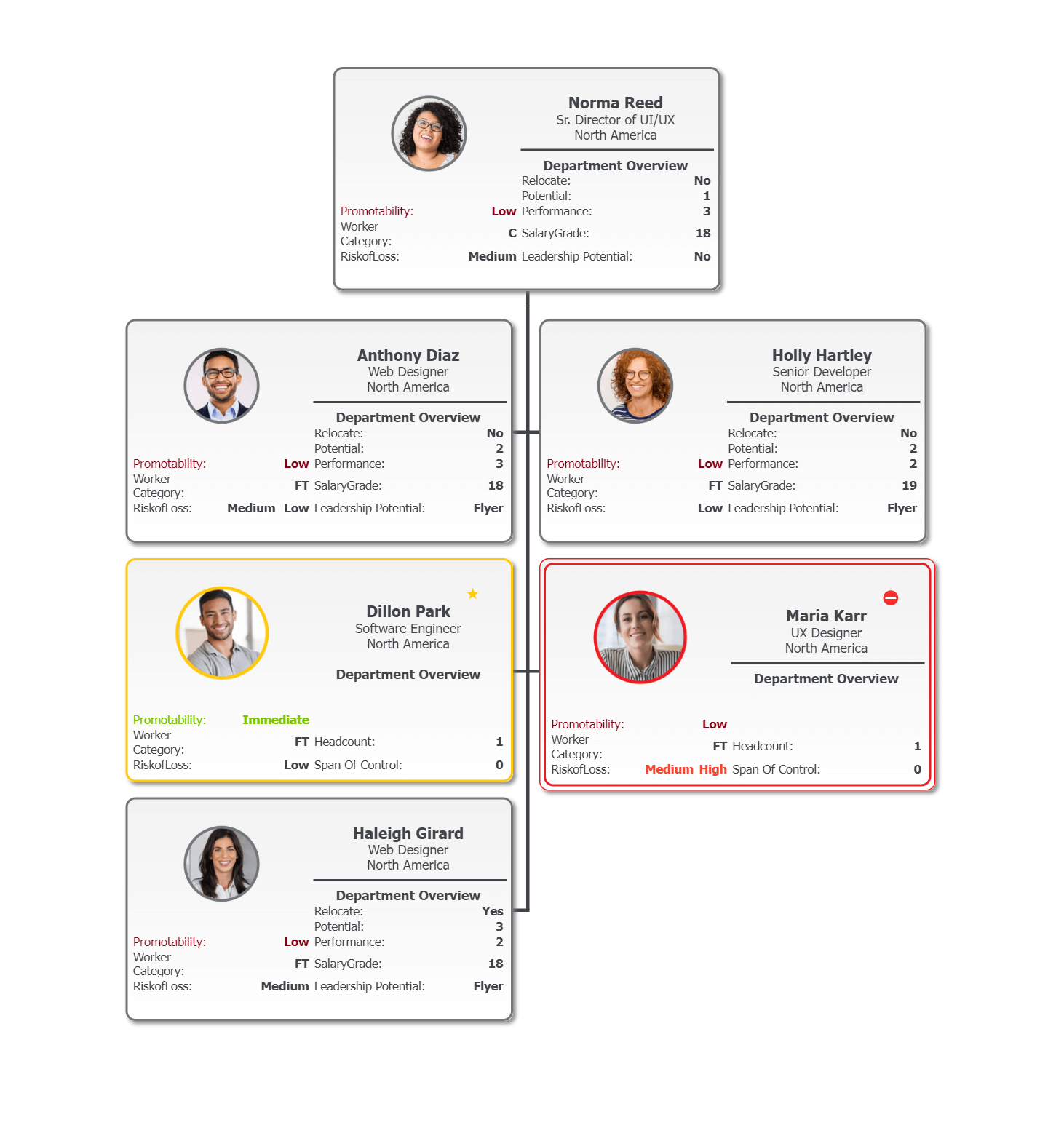 Reimagine Reorganization with OrgChart
OrgChart goes beyond helping you visualize your current workforce composition. It also equips you to plan for future scenarios. With drag-and-drop functionality, HR teams can assess multiple "what-if" scenarios and auto-calculate key performance indicators, such as salary and headcount. Whether you're reorganizing a department or launching a new facility, OrgChart enables you to leverage the enriched knowledge of your current organization structure, so you can make confident, informed decisions about the future.
OrgChart Helps You Build an Effective Organizational Structure:
HR professionals must provide detailed visibility into their organizations. With OrgChart, you can present your organization in a visually engaging and accessible way. From aggregating employee data from multiple systems to embedding live charts into your intranet or SharePoint, OrgChart makes visualizing your entire organization easy and enjoyable.

Visualize your organization, tap into critical talent insights, and facilitate efficient workforce planning like never before. With OrgChart, HR professionals can comprehend, manage, and influence their organizations now, while planning and preparing for the future.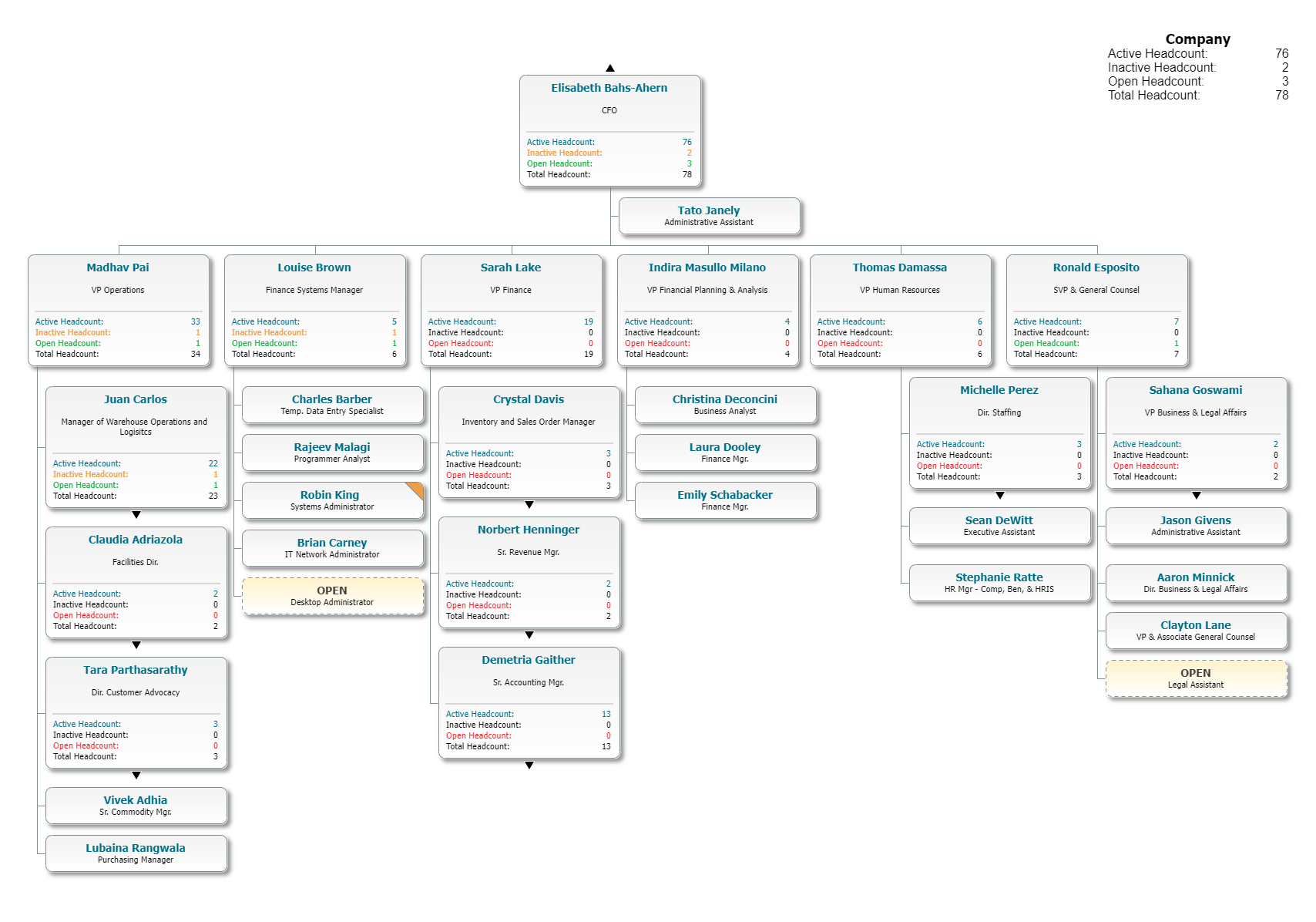 Planning in a rapidly changing environment can be challenging. OrgChart not only displays your organization's current state, but also helps you explore potential future scenarios, focusing your vision on what lies ahead.
Current State: Collate all your people data in one place for an accurate and holistic view of your organization. Track the metrics that matter to you, spot gaps effortlessly, boost efficiency and onboarding, and accurately represent your organization's reality.
Future State: Model future changes to your organization and understand their impact. Create custom metrics, set goals, track progress towards these goals, and align your organizational structure with your strategic objectives.
The best part? OrgChart helps you keep planning exercises limited to only the audience necessary to drive critical business decisions. Keep employee data and company changes private, effortlessly, by using the workforce planning tools offered in our Enterprise product.
See the Meaning Behind the Data with OrgChart
As an HR professional, your role involves decoding complex people data to drive meaningful business conversations. OrgChart surfaces crucial insights, offering customized views of your workforce to facilitate informed decision-making.
With OrgChart, you can:
Create custom formulas to track the metrics that matter most to you.
Build data-driven presentations of your charts to spot gaps and trends effortlessly.
Automatically archive your organization's current state and revisit it at any time.
Track key metrics, set targets, and understand how your changes impact your organization.
Collaborate with key stakeholders in real-time to develop actionable workforce plans.
Sync your plans with current HR data, ensuring your plans remain accurate as your organization evolves.
Facilitate efficient workforce planning with the right information at your fingertips.
Enhance efficiency, accuracy, and trackability.
Transform data into valuable tools that illustrate how your people can best support your organization's goals.
Model workforce planning scenarios to visualize your organization's future state.
Organizational charts are some of the most critical tools in an HR professional's arsenal. OrgChart amplifies the effectiveness of these charts, helping you derive even more value from them.
The OrgChart Framework: Visibility, Insight, Vision
OrgChart supports HR professionals in creating organizational visibility, deriving insights, and developing a vision for the future. Our Visibility-Insight-Vision framework ensures that visibility enables insight, and together, they facilitate vision. OrgChart is here to guide you smoothly through this process, supporting best practices throughout each stage.
Our Guiding Principles
OrgChart's principles mirror the values we aspire for our solution to embody. We aim to offer you:
Charts that work harder for you.
An intuitive product anyone can use.
A purpose-built design for HR professionals.
Visually engaging charts.
Scalability to grow with your organization.
Experience OrgChart Today
Data integration remains a challenge despite many large companies operating more than 30 separate HR applications and payroll systems. OrgChart integrates seamlessly with ADP Workforce Now® and other HRIS systems, such as BambooHR, UKG, and more. These integrations ensure your employee data is instantly represented in an organizational chart without manual intervention. Experience the seamless data visualization and strategic insights of OrgChart! Unleash the potential of your organizational structure, tap into vital insights, and guide your vision for the future. Request a quote now.