The great power of modern organizational chart software is being able to make sense of the trove of HR data you already have. By importing the data into a centralized chart, data becomes visually organized, leading to more informed, data-driven business decisions. Currently, if your data is scattered across a variety of sources, this may seem like a daunting or even impossible task. In this blog we'll show you that you're closer than you think to a robust and accurate chart of your company's personnel data.
Data Import
OrgChart can import data from a wide range of HR and Applicant Tracking Systems, as well as Excel and CSV files.

OrgChart can integrate directly with over 40 HCMs, and users are able to supplement their org charts with data from additional sources, or even make data overrides to represent the reality of your organization's structure.
Hierarchy
OrgChart will intuitively find the fields responsible for creating the org chart hierarchy, and map them accordingly. You can always add additional fields for secondary and tertiary managers, or adjust the reporting lines manually, so that your organization's structure is accurately reflected in your chart.
Dotted-Line (indirect) reporting.
What is dotted-line reporting? Simply it's the relationship between an employee with a secondary supervisor that also provides direction or management in the work performed. You may be concerned how dotted-line relationships might complicate the creation of your org chart. This too is easily accomplished in OrgChart using the Auxiliary Supervisor function, giving results like Figure 1.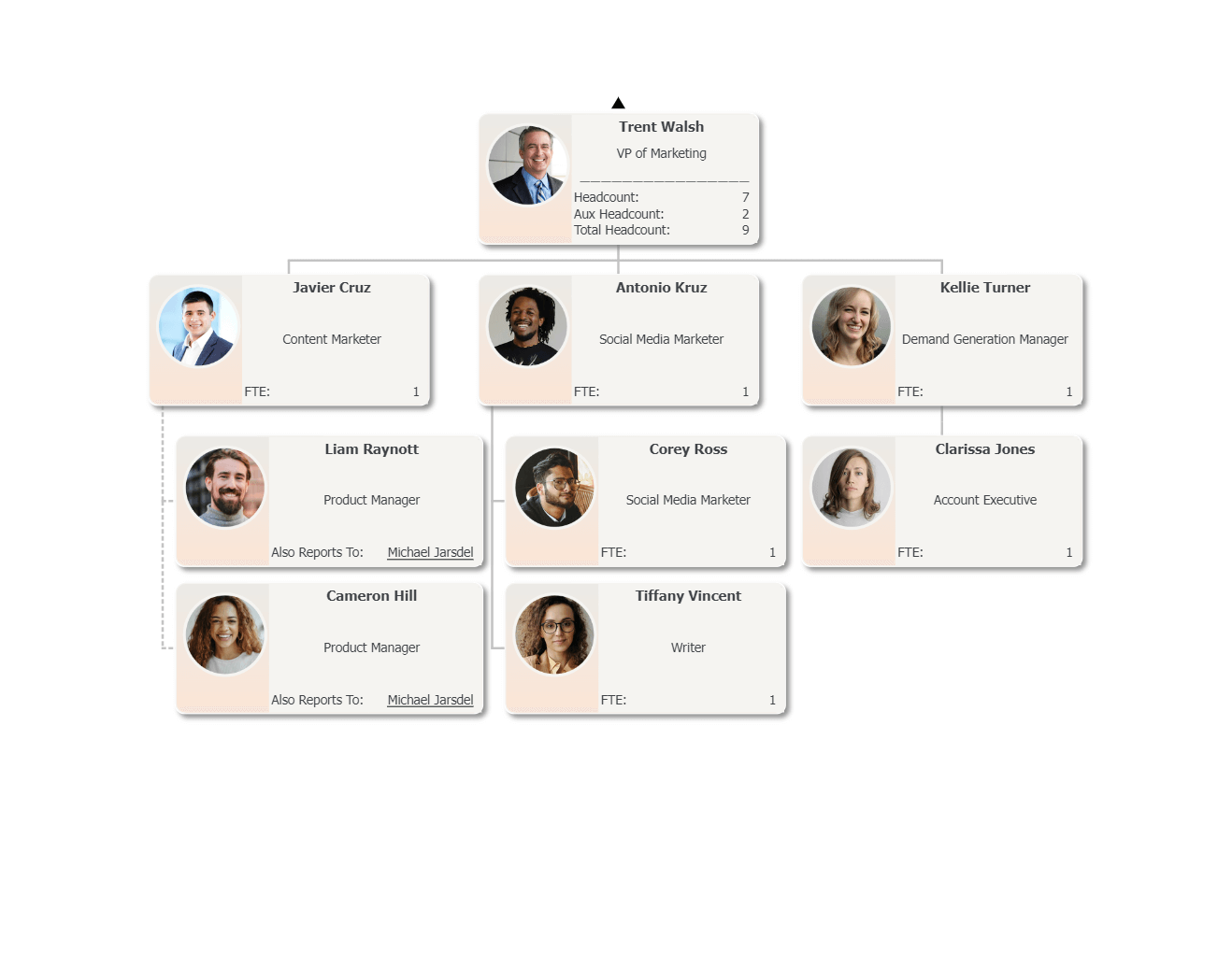 Figure 1: OrgChart displaying normal and dotted-line relationships between employees
Once your basic org chart is set-up it's time to supercharge it with HR data from across your organization. What metrics might be the most interesting to stakeholders?

Here are just a few of the top metrics our clients use in their org charts to analyze their workforces:
Salary
Performance Rating
Age
Ethnicity
Employee Benefit Participation
Tenure
Retirement Eligibility Date
Figure 2. OrgChart representing key employee metrics
Data Synchronization
As you might recognize in Figure 2 the data from this chart likely comes from disparate databases. Information like name, title, and department likely come from a core HR system, however, open positions and performance data are likely imported from other systems. OrgChart can directly connect to your systems of record, and set to automatically refresh, so that you always have the most up-to-date information, without having to make manual adjustments.
Unlock Your Org Chart's Potential
Navigating the dynamic, intricate world of human resources requires clarity, insight, and foresight. With OrgChart, you have a tool at your fingertips designed to help you visualize your organization, unearth vital talent insights, and drive your workforce planning endeavors with unprecedented precision.

Whether you're looking to grasp the current state of your organization or envisage the future one, OrgChart puts you in the driver's seat. By consolidating all of your people data in one place, it provides a comprehensive, accurate view of your organization while offering capabilities to model future changes and understand their impact.

Request a demo.

Supercharge your org chart with OrgChart's automation software. From creating data-driven presentations of your charts, to facilitating efficient workforce planning, OrgChart is built to streamline your HR processes and maximize efficiency. OrgChart fuels the informed, effective decision-making necessary in today's fast-paced HR landscape, allowing you to weave a narrative from your data and insights.

And the best part? OrgChart is designed with scale in mind. As your organization grows, OrgChart grows with you. This platform is intuitive, visually engaging, and more importantly, purpose-built for HR professionals.

So why wait? The power to unlock the potential of your org chart is within your grasp. Harness the capabilities of OrgChart today and let's create a thriving, well-understood, and future-proof organization together.

Don't just take our word for it—see OrgChart in action. Request a personalized quote and experience firsthand how OrgChart can transform the way you visualize, analyze, and plan your workforce. Step into the future of HR management with OrgChart.