Harness the Power of Automation for Your Organizational Charts
In the era of accelerating digital transformation, many companies still rely on time-consuming, manual methods for creating their org charts. Whether it's a small startup with 50 employees or a global enterprise with over 5,000, assembling, maintaining, and updating these charts can be laborious and inefficient. OrgChart introduces a dynamic solution — a cutting-edge org chart automation tool that streamlines your workforce management process.

Equipped with robust features, OrgChart transforms how you handle org chart creation and maintenance. Hours previously spent on manual chart updates are freed up, letting you focus on the strategic analysis of your workforce and effective communication of those insights throughout your organization. OrgChart integrates data from various HR information and applicant-tracking systems, allowing for customization and timely updates based on data‑driven rules.

Request a Demo
Automate Your Org Chart Creation with OrgChart
Visualize your organization, unlock talent insights, and streamline workforce planning like never before.

With OrgChart, HR professionals can understand, manage, and influence their organizations while exploring future growth and evolution strategies. Here's how OrgChart revolutionizes your org chart creation process:
Current State Visibility: Merge all your people data in one place for an accurate and up-to-date view of your organization. Track crucial metrics, spot gaps, accelerate onboarding, and ensure everyone knows who's who. Boost efficiency by enabling teams to access necessary people-related information when needed.
Modeling the Future State: Envision potential changes to your organization and understand their impact. Create custom metrics, set targets, and track your progress toward achieving your goals. Collaborate in real-time with key stakeholders to develop actionable future workforce plans.
Craft Engaging, Insightful Charts with OrgChart
OrgChart allows HR professionals to provide detailed visibility into the organization in a visually engaging, accessible, and stimulating way. With our org chart automation feature, you can:
Visualize employee data from multiple systems in one place
Filter and highlight employee data in real‑time
Embed live charts into your intranet or SharePoint
Derive Meaningful Insights with Org Chart Software
OrgChart is more than just an org chart creator; it's an insightful tool that helps organizations make sense of complex people data. It surfaces critical insights that drive business discussions across multiple topics, offering customized views of your workforce that enable sound decision‑making.
Create custom formulas to track the metrics most relevant to your business
Present data-driven charts that allow you to spot gaps and trends easily
Archive the current state of your organization and revisit it whenever necessary
Optimize Workforce Planning with OrgChart's Org Chart Automation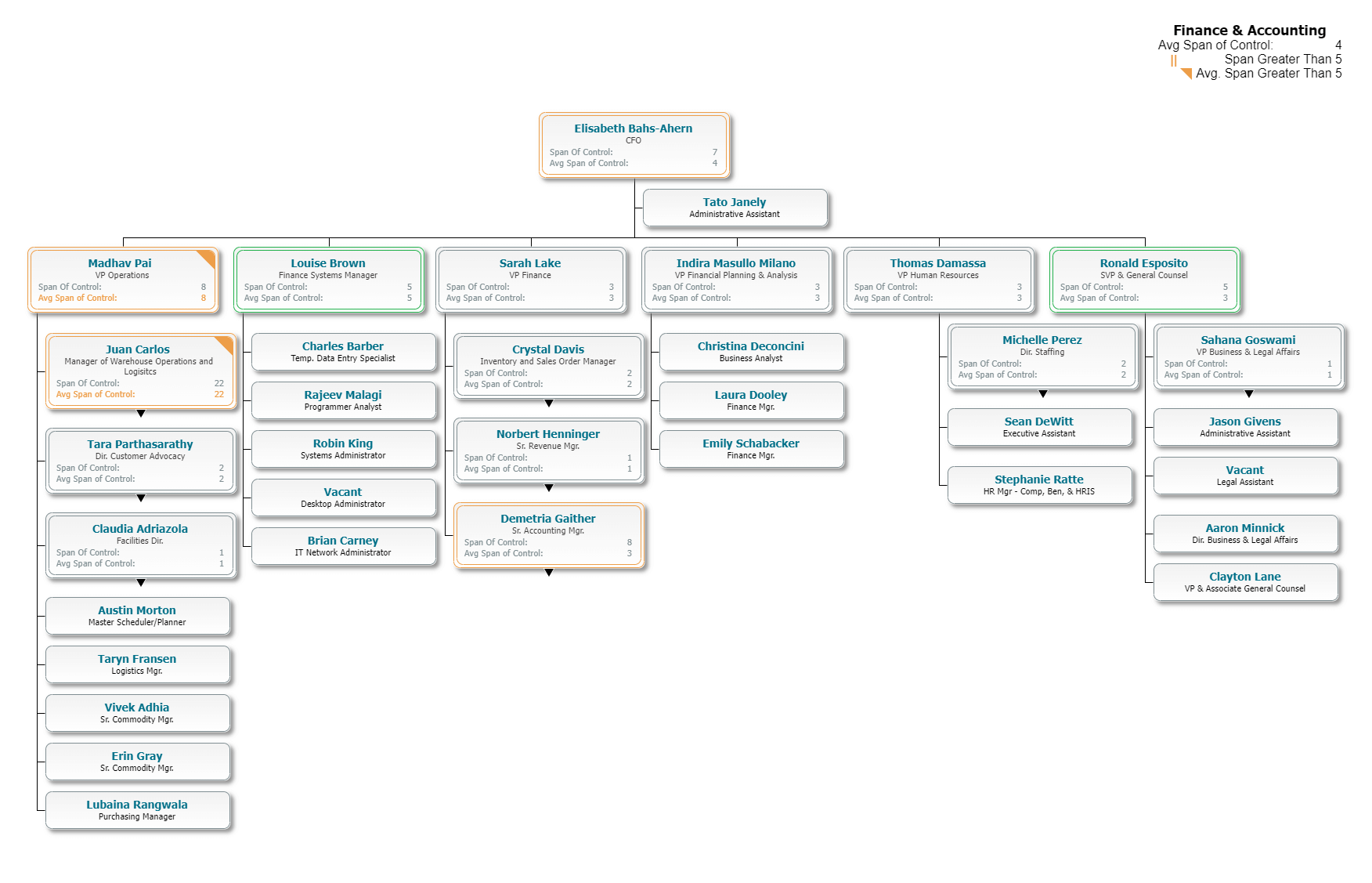 Real-Time Org Chart Collaboration
In today's fast-paced business environment, workforce planning can be challenging. OrgChart simplifies this task by showcasing your organization's current state, and enabling you to explore the impact of potential future scenarios, ultimately crystallizing your vision of the future.
Track crucial metrics, set targets, and measure the impact of changes on your organization
Invite key stakeholders to collaborate and develop actionable plans in real‑time
Sync your plans with current HR data at any time to ensure accuracy as your organization evolves
Drive HR Efficiency with Org Chart Software
Effortless HR Data Import into Your Org Chart
Use our org chart creator to quickly produce professional, detailed charts from data sourced from Excel, SQL, or HRIS solutions such as SAP. Furthermore, cloud-based OrgChart integrates seamlessly with more than 50 popular HRIS/ATS solutions, streamlining data imports like never before.
Org Charts with Automatic Formatting
Say goodbye to manual formatting with our data-driven formatting feature. Customized templates not only produce professional results but also dramatically reduce production time.
Automated Org Chart Updates
Our org chart software ensures your org charts remain up-to-date with automatically scheduled updates and the option to push an update with the click of a button. A single click allows you to add or remove employees from the charts, which are then automatically updated from the data source while preserving the formatting.
Workforce Analytics in Your Org Chart
OrgChart enables the addition of key HR metrics to the charts, including headcount, performance ratings, and salary, offering valuable visualizations that assist management in making informed business decisions.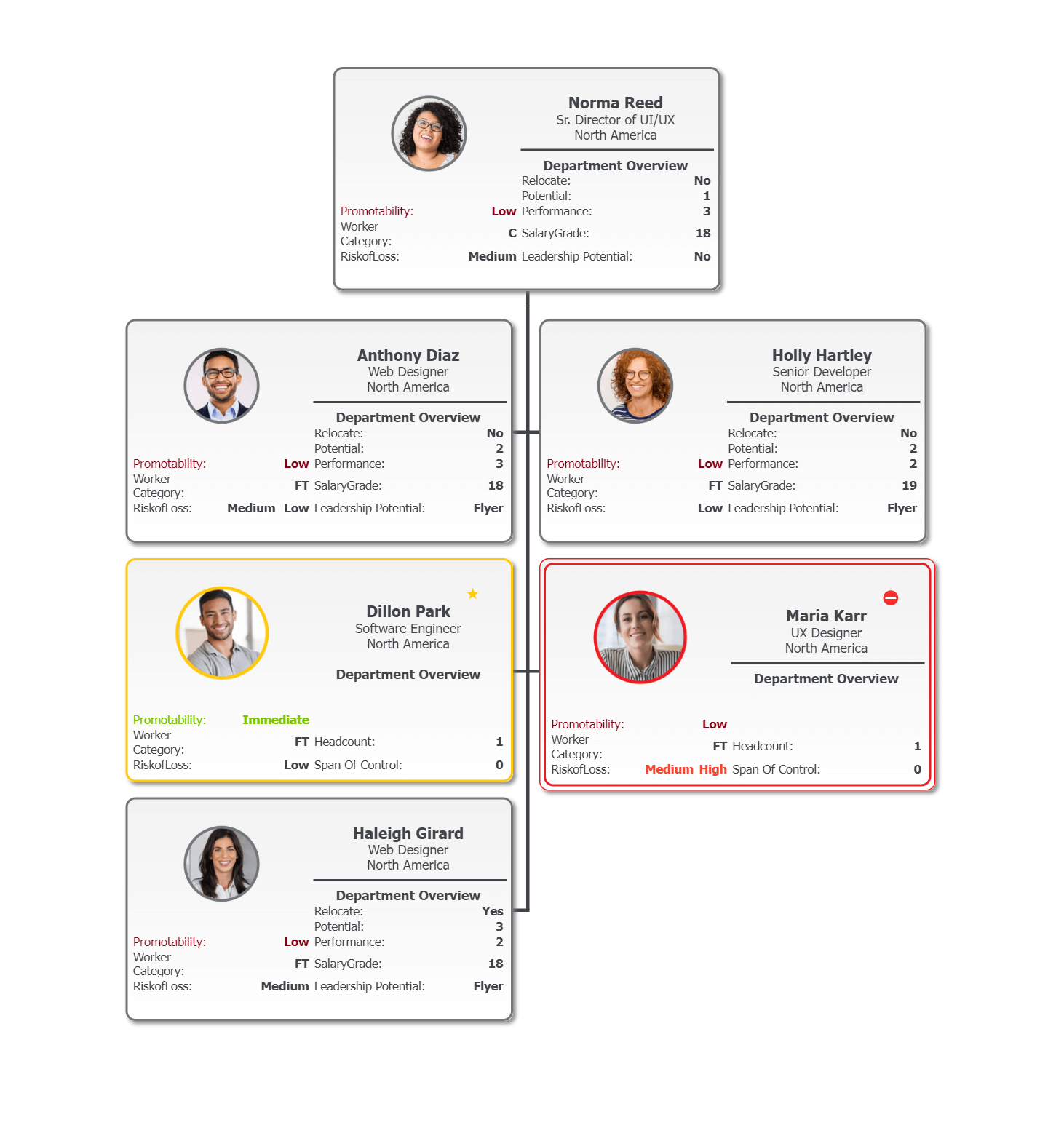 Forward-Thinking Workforce Planning
Our Collaborative Planning module allows you to model your org structure to test multiple scenarios with real-time data, without the risk of pushing your planning exercises to your live charts. With a separate space for workforce planning, sensitive data stays private. Custom permissions ensure the right people have the right information, exactly when they need it.
Efficient Org Chart Sharing
OrgChart allows you to embed charts directly into your company intranet, providing up-to-date information to your employees at their convenience. Share with a weblink, as a pdf, or in a PowerPoint slide with ease!

Here's what our clients have to say: "I like the ability to import via API with our HRIS. This is a huge time saver and gives me peace that the data is right." – Robert H (G2 Reviews)
Leverage Your People Data with OrgChart: Your Automatic Org Chart Creator
For successful workforce planning initiatives, you need timely, accurate information at your fingertips. OrgChart's customizable charts and top-notch client support ensure you have the org chart you need exactly when you need it. Our org chart software provides tools that support greater efficiency, accuracy, and trackability.

Org charts are the most essential tool in an HR professional's toolbox. OrgChart enhances the value of your org charts, making them work harder for you without any extra effort. Visualize the future state of your organization with our org chart automation tool that's built to grow with your organization.
The OrgChart Framework: Visibility, Insight, Vision
OrgChart supports HR professionals as they navigate through evolving activity modes. Our Visibility-Insight-Vision framework enables HR professionals to advance adeptly through these modes, with each level of achievement leading to and enabling the next. OrgChart facilitates best practices within and across each mode of this framework, making us the preferred org chart software for HR managers and directors.
Guiding Principles Behind Our Org Chart Creator
At OrgChart, our principles drive our development to reflect the values and character traits we aspire for our solution to embody. We are committed to delivering exceptional results for our clients and enabling HR professionals to thrive in the workplace. These guiding principles ensure that our org chart automation tool is intuitive, user-friendly, visually engaging, and capable of growing with your organization. Curious? Request a demo today!