In today's fast-paced business world, a strategic approach to succession planning and talent management is paramount. Succession planning is the strategic process by which an organization ensures employees are adequately recruited and developed to fill each key role.

Succession planning isn't just about mapping out the corporate ladder — it's about aligning the right talent with every job within your organization. For instance, a company planning to double its size in three years will need a pool of capable managers. Hence, strategic planning becomes crucial.

Implementing effective succession planning reaps numerous benefits. Besides highlighting areas that require skill development, it enables the identification of high-potential employees and tailors growth opportunities for them. It aids employee retention, builds "bench strength," and determines the right employee position. It helps discern if an employee should remain with your organization or seek opportunities elsewhere.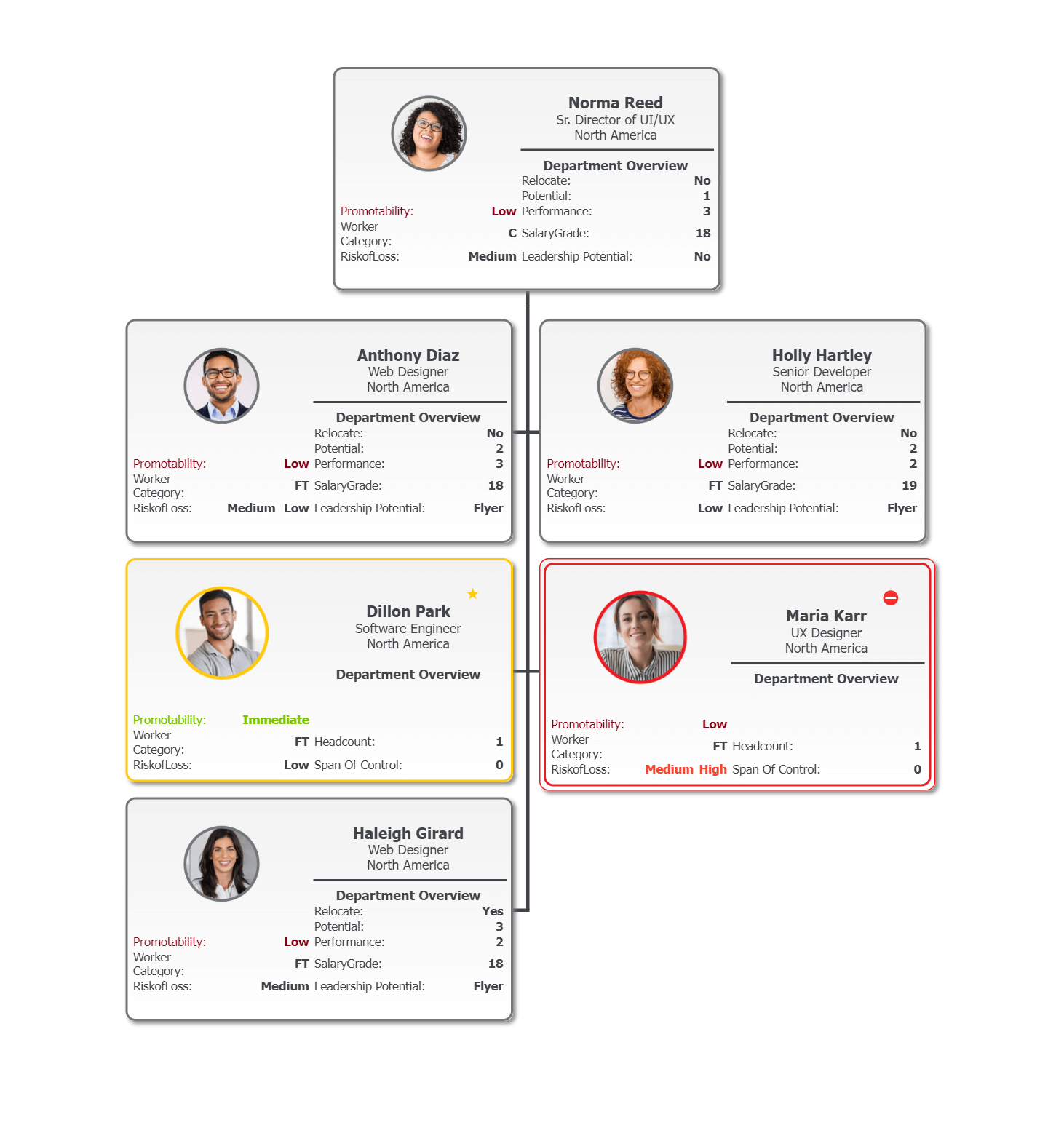 The benefits of implementing succession planning:
It allows you to assess if your team possesses the requisite skill set to realize company objectives and highlights areas of skill deficit that need addressing.
It facilitates the identification of high-potential employees and offers them tailored development opportunities for higher‑level roles.
It identifies employees at a risk of departure.
It enhances the retention of superior employees.
It builds "bench strength."
It aids in identifying the right position for employees.
It helps decide if an employee should remain with your organization or find opportunities elsewhere.
Steps for Successful Succession Planning Using Org Charts
Set Clear Objectives: Understand your organization's long-term objectives. It's essential to have a clear vision of where your organization is headed and what kind of talent you need to get there.
Understand Employee Aspirations: Communicate with your employees to understand their developmental aspirations. Find out what they hope to achieve within the organization and how they see their career path progressing.
Educate Key Employees: Make sure that key employees understand their roles, responsibilities, and the career trajectory of the positions they are being prepared to fill. This knowledge will prepare them for potential advancement.
Track Industry Trends: Stay updated with employment trends in your industry. Understanding which roles may be hard to fill externally will help you focus on developing those skills internally.
Use OrgChart Software: Utilize organizational charting software like OrgChart to map out your organization's current structure. This visual representation of your organization's personnel landscape will help you identify potential gaps and areas for employee development.
Analyze Your Organization's Landscape: Interpret the organizational chart to understand your company's current position. This should include a diagnostic of filled positions, vacant roles, and expected-to-be-vacant positions. Also, identify the employees ready for promotion and those contracted.
Plan for Succession: Based on your analysis, create a robust succession plan. This should involve aligning the right talent with appropriate roles, focusing on the employees that demonstrate passion, character, and proven ability for their positions.
Implement the Plan: Once the plan is ready, it's time to put it into action. This may involve training, mentorship, or a gradual increase in responsibilities for potential successors.
Regularly Update the Plan: Continually review and update the succession plan as per changes in organizational goals, industry trends, and personnel changes.
Implementing successful succession planning requires a thorough understanding of your organization's long-term objectives as well as the developmental aspirations of your employees. Key employees should be cognizant of the roles, responsibilities, and career trajectory of positions they're groomed to fill.

Keep abreast of employment trends in your industry to better comprehend the roles that may be difficult to fill externally. Utilizing organizational charting software, such as OrgChart, can help visualize your organization's personnel landscape, enhancing the effectiveness of your planning process.

The outcome of this process includes a diagnostic organizational chart depicting filled, vacant, and expected-to-be-vacant positions, employees ready for promotion, and contractors. This visual aid underlines the need for robust planning and proactive action to safeguard your company's most valuable asset – its employees.

At the heart of succession planning lies the pursuit of superior employees that demonstrate passion, character, and proven ability for their roles. As these individuals are hard to come by, a well-strategized succession planning becomes critical.
Maximizing Employee Engagement through Talent Management and Succession Planning
A study by Software Advice, a research firm specializing in HR and recruiting technology, underscores the vital role of talent management and succession planning in enhancing employee engagement. The survey highlights that a staggering 62 percent of employees believe the presence of a succession plan in their company would significantly bolster their engagement at work.

This statistic has profound implications for those tasked with enhancing employee retention. Providing employees with a clear progression path in their careers results in greater engagement and job satisfaction – a crucial goal for all businesses. Engaged employees are indeed content employees, which begs the question: How well are employers implementing this? The study reveals 81 percent of employers utilize software to facilitate the succession planning process.

If your organization is not part of this statistic, or if your workforce lacks engagement, it might be time to reevaluate your office culture. Improved talent management and concrete succession plans could be the catalysts needed to drive engagement. Should you need guidance, our page on succession planning is a good starting point. We also offer demos and trials of our succession planning software.
Using OrgChart for Effective Succession Planning
Understanding the power of succession planning and talent management becomes even more vital with the imminent retirement of baby boomers. Visualizing the current state of your company and planning for the future becomes a critical task.

With OrgChart's help, you can efficiently manage the retirement and succession planning process. It allows for a visual assessment of employees nearing retirement, making identifying the need for immediate replacements easy. Moreover, it streamlines the evaluation process of the remaining talent. Factors like skills, flight risk, and leadership potential can be effectively evaluated with OrgChart, enabling a strategic development plan for future leaders.

It automates the organization mapping and visualization process, allowing managers to identify potential gaps and talents for future leadership roles quickly.

By leveraging OrgChart; businesses can ensure that employees are not only recruited and developed to fill critical roles, but also align with the company's culture and long‑term objectives.
Enhancing Organizational Success with OrgChart
Our promise to you is a platform that helps you visualize your chat organization, gain invaluable talent insights, and streamline workforce planning like never before. OrgChart combines all your people data into one cohesive view, ensuring accuracy and providing real-time metrics. It's an all-encompassing tool designed to assist you in visualizing your organization's current state, modeling future changes, and tracking progress toward strategic goals.

OrgChart also helps you see the meaning behind the data by surfacing the insights you need to facilitate crucial business conversations. With custom formulas, data-driven presentations, and automatic archiving, it's easier than ever to spot gaps, trends, and opportunities.

Workforce planning can be daunting, especially given the ever-changing policy, regulatory, and competitive landscapes. OrgChart simplifies this process by providing a clear view of the current state of your organization and helping you explore potential future scenarios. This is facilitated through real-time collaboration with key stakeholders and the ability to sync your plans with current HR data at any moment.
Why Choose OrgChart for Your Succession Planning and Talent Management?
Your org chart is an indispensable tool in your HR toolbox, so why not ensure it's the best it can be? Embrace OrgChart to leverage your people data, enhance efficiency, transform data into practical tools, and model workforce planning scenarios that glimpse your organization's future.

At OrgChart, we believe in the power of visualization, scalability, and intuitiveness, with HR professionals at the forefront. Our software provides detailed visibility into your organization and valuable insights that enable you to craft a robust vision for the future.

Experience the OrgChart difference today. Witness first-hand how it can support you in achieving greater visibility, providing deeper insights, and crafting a compelling vision for your organization's future. Remember, a well-planned organization is a well-functioning one. So, take the first step towards a more strategic, data-driven future with OrgChart.
Don't delay your succession planning and talent management improvements. Schedule a demo with one of our experts. With OrgChart, you're not just protecting your company's greatest asset — its people — but also setting the stage for its continued success.