Succession planning ensures companies recruit and develop employees are recruited and developed to fill key roles efficiently and effectively. Succession planning is not just about establishing paths for promotion — it's about matching the right person for every job in a company. For example, if a key position in the organization has a high probability of being vacated by a pending retirement, underperforming employee, or flight risk, the company greatly benefits from having a plan to identify a candidate who has the right skills and experience to replace them.
Succession planning enables an organization to:
Determine the right skill mix to achieve company goals and determine what gaps need closing.
Identify talented employees and provide education to develop them for future responsibilities.
Identify which employees that are at risk of leaving.
Identify and plan steps to retain superior employees.
Build "bench strength" by identifying positions key to the company's success.
Determine where employees best fit in the organization.
Identify employees who are poor performers or who don't align with the company's goals.
Effective succession planning requires clarity on an organization's long term goals. The process needs to take into account the developmental needs and goals of each employee. Key employees then need to understand the roles, responsibilities, and career paths of the positions that they are being developed to fill. Job employment trends in the organization's industry must be examined to identify roles that are difficult to fill externally and then acted upon to recruit more widely or offer more training internally.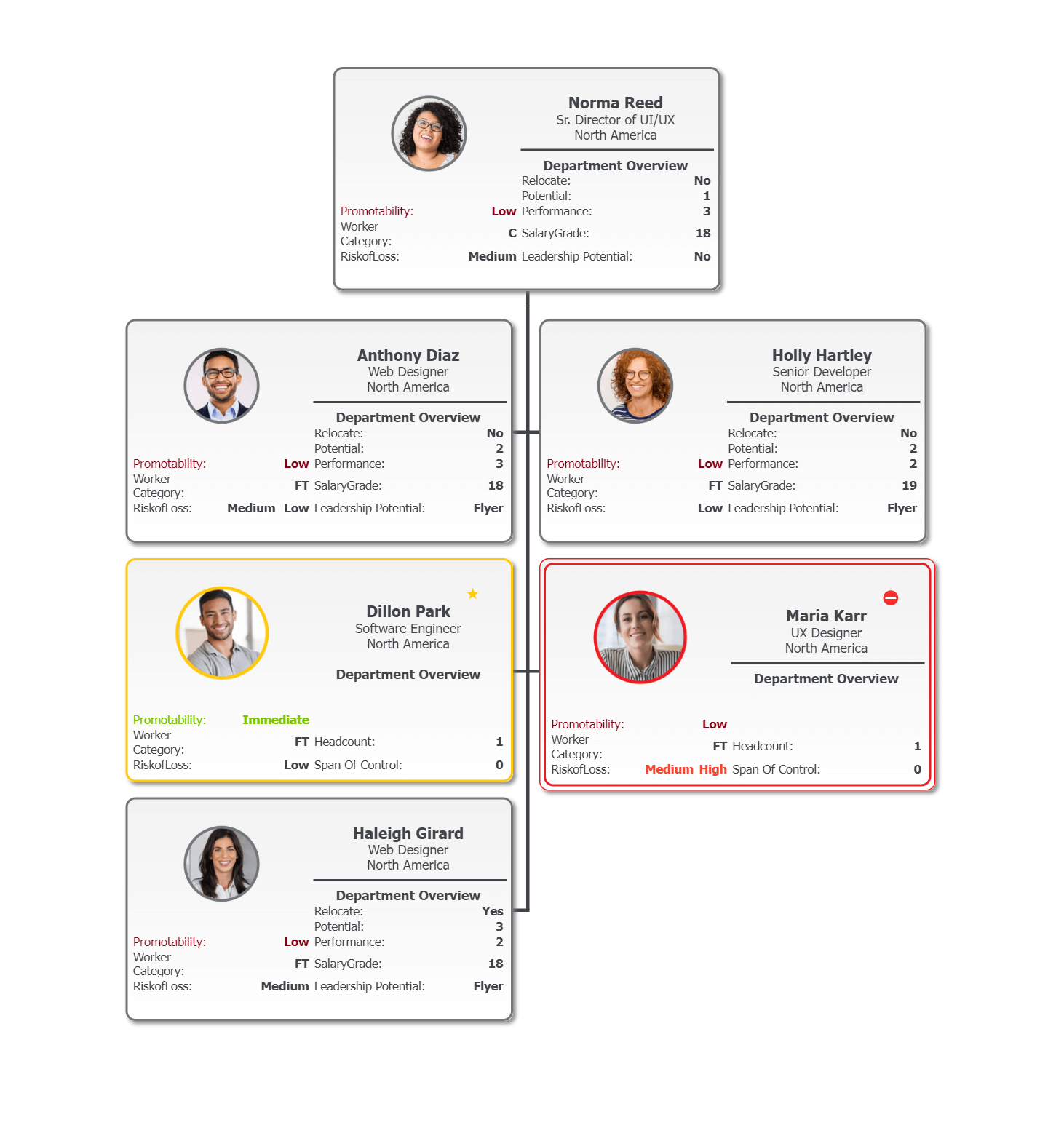 Basic Organization Chart For Succession Planning
A diagnostic org chart provides a clear view of the workplace for planning purposes. Org charting software tools help visualize the organization and its personnel hot spots. OrgChart automates the organization mapping and visualization process by pulling pre-existing data from your HRIS. The basic chart above clearly shows positions that are filled, but are expected to be vacant, using OrgChart. Additional fields may be added to display key metrics such as tenure, expected departure date, skill sets, etc.

The ultimate goal of succession planning is to promote and hire superior people that have the passion, character, capability and track record for the job. An org chart presentation of the data can become fundamental to communicating the urgency for serious planning and taking action to protect a company's greatest asset. It's people.
Chart Your Way to Success with OrgChart
In an ever-evolving business landscape, understanding your organization's present and visualizing its future is paramount. OrgChart is here to help you map your journey. Harness our software's potential to visualize your organization, unearth vital talent insights, and facilitate impactful workforce planning like never before.
Why Choose OrgChart for Your Organization's Succession Planning?
OrgChart is built with HR professionals in mind, seamlessly bridging current realities with future visions. With OrgChart, you can:
Visualize your organization's current state: Combine all your people data in one place for an accurate view of your organization. You can track the metrics that matter most to you, accelerating onboarding, and increasing overall efficiency.
Map your organization's future state: Model future changes to your organization and understand their impact. Align your organizational structure with strategic goals, and prepare for significant people-related changes or forecast organizational structures post‑merger.
Create vibrant, engaging charts: Enhance visibility across your organization with live, filterable, and embeddable charts that provide real-time employee data insights.
See the meaning behind your data: Create custom formulas to track your most crucial metrics, identify trends, and prepare data-driven presentations that highlight gaps and opportunities.
Optimize your workforce planning: Collaborate with key stakeholders to develop actionable plans in real-time, tracking key metrics, setting targets, and measuring the impact of your changes.
Rethink Org Chart Software
Recognized as the most essential, most utilized tool in an HR professional's toolbox, OrgChart goes beyond your typical organizational charts. It efficiently transforms data into useful tools, illustrating how your people can best support your organization's goals. Moreover, it models workforce planning scenarios, helping you visualize your organization's future state.

Visualize your organization's future with OrgChart. Leverage your people data, promote efficiency, effectiveness, and informed decision-making. Watch as OrgChart transforms the way you perceive your organization, turning abstract data into actionable insights.

Don't wait to chart your organization's future success. To get started, request a demo today, and experience first-hand how OrgChart can revolutionize your succession planning process.